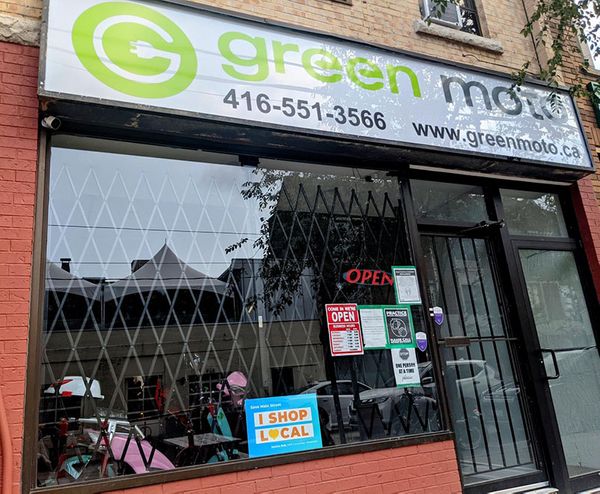 green moto
Quality Electric Transportation, environment friendly!
Customer service is our primary focus.
Professional repairs, services, and upgrades.
Green Choice Moto has Moved!!!!
Please visit our new store located at 848 Dundas Street West in Toronto !!!!
Welcome to the Green Choice Moto e-bike scooter sales service. We are now taking phone-in or online reservations for E-bike service and repair.
Call now on 647-344-7043 for details.
Please call us at 647-344-7043 during normal business hours 11:00-18:00 with your questions or comments on all your e-bike electric scooter sales and service needs. Green Choice Moto is now closed Sunday
For any other inquiries, you are welcome to mail us at info@greenchoicemoto.ca and we'll be in touch to address your e-bike scooter sales service needs in the Toronto area and beyond.
Green Choice Moto has been proudly serving Toronto and the area for 9 years and has made great advances and contributions to the electric transportation industry serving our customers with honesty, pride, and above all, integrity. We look forward to serving you and surpassing your expectations with our retail sales, dealer relationships, and servicing of our bikes and those of other makers. We are located online and at 848 Dundas Street West. Green Choice Moto is a family-run business and our goal is to advance the electric transportation industry while giving our children a better future through the gains and benefits of Green Transportation. We look forward to your next visit and thank you for taking the time to visit our site. Green Choice Moto was founded in 2009 by Vassilios Kokkinias and is headquartered in Toronto. We have our own people stationed at our manufacturing facility near Shanghai. We place strong emphasis on quality and service and carry a unique range of products that you won't find anywhere else. We are proud to offer the best Ebike and best Mobility Scooter in Toronto